Atlanta Bird Control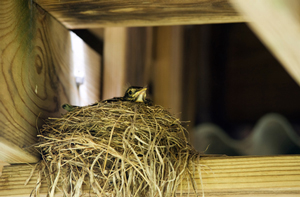 Pigeons, sparrows, crows, starlings, swallows and gulls are the most common problem birds, particularly in urban areas. Pigeons, especially, are notorious for their persistence in heavily populated communities, where ample food sources are available. Pigeon removal is the most widely requested out of all the Atlanta bird control services.
Birds peck holes in siding, carry parasites and bring in quantities of nesting material that could be a fire hazard. Birds have even been known to start a house fire by bringing a discarded lit cigarette butt into the nest. The worst case scenario has been the occupants losing their lives due to a bird nesting in the furnace flue.
If birds are becoming a burden in your life and you feel that your health or property is at risk, then it is best to take the appropriate pest prevention measures. An important part of ensuring proper removal and prevention of birds in your home is contacting Georgia Wildlife Removal immediately before any more damage is done.
Our Atlanta Bird Control Provides
Pigeon Control
Bird Spikes
Bird Repellent
Bird Deterrent
Critter Control
Wildlife Control
Pest Control
Bird Control
Bird Repeller
Bird Deterrents
Pigeon Spikes
Bird Control Spikes
Why Atlanta Should Hire Us For Their Bird Control
Georgia Wildlife Removal is a company specializing in ridding Atlanta homeowners of raccoons, opossums, birds, and other wildlife that may have inhabited your home. We offer wildlife removal services in Atlanta and surrounding areas, as well as home restoration services to repair the damages and rid your home of the disease causing pest waste.
The skilled professionals at Georgia Wildlife Removal are courteous and attentive to homeowner's needs. We take our customer's satisfaction seriously and will go above and beyond to ensure the job is done right. Your family's overall well-being is the top priority at Georgia Wildlife Removal. When you call us for wildlife removal in Atlanta, you can count on us to remove and prevent wildlife from inhabiting your home.
Recent Articles About Bird Control
If you are looking for Atlanta Bird Control Professionals then please call 404.931.5578 or complete our online request form.