Atlanta Attic Contamination Cleanup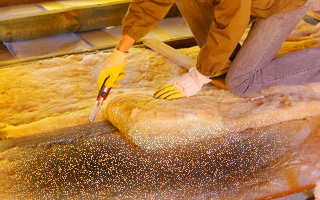 When wildlife animals like bats, birds, raccoons, squirrels and mice get into your home or building's attic, they can damage and contaminate the insulation with urine, feces, shed fur, parasites, bacteria, and viruses. If the attic is not decontaminated by removing the animal waste, these disease-causing contaminates will remain in your home's insulation forever. The remaining animal odors can also attract other nuisance wildlife to your attic or crawl space as it's perceived as a safe and secure animal living space.
Raccoon poop and bat guano/droppings are considered hazardous by the Center for Disease Control and the droppings from wildlife may carry animal disease that could be passed to humans. These animal diseases are called zoonotic diseases and can include histoplasmosis, toxoplasmosis, cryptococcosis, baylisascaris, salmonella, e-coli, rabies, etc. WARNING: DO NOT DISTURB THE DROPPINGS unless you are wearing proper safety equipment including a 0.4 microns respirator that will filter the airborne pathogens to prevent respiratory disease. We provide attic contamination cleanup services to help keep your family's health in good standings.
Hiring Georgia Wildlife Removal is the most advantageous choice when you run into these animal hazard problems. We begin the Atlanta attic decontamination by removing and vacuuming out all contaminates and contaminated insulation. After waste removal, we deodorize and decontaminate the attic space. When the removal of the contaminated insulation including raccoon poop, bat guano, squirrel damage and rodent damage is complete, installation of a Pest Control Insulation is suggested. Thermal, Acoustic, Pest Control material (T.A.P.) is highly efficient and is a superior replacement for animal damaged insulation. It can also be applied in a process called attic capping, which is applied over insulation already in place, to bring the R values up to Department of Energy recommended levels for your area. This material will improve your comfort levels, add fire resistance, control and exclude many insect pests
Our Atlanta Attic Contamination Cleanup Provides
Rat Feces Decontamination
Rodent Control
New Insulation
Rodent Removal
Animal Control
Wildlife Removal
Attic Cleaning
Attic Contamination Cleanup
Attic Insulation
Mice Control
Pest Removal
Extermination
Why Atlanta Should Hire Us For Their Attic Contamination Cleanup
Georgia Wildlife Removal is a company specializing in ridding Atlanta homeowners of raccoons, opossums, birds, and other wildlife that may have inhabited your home. We offer wildlife removal services in Atlanta and surrounding areas, as well as home restoration services to repair the damages and rid your home of the disease causing pest waste.
The skilled professionals at Georgia Wildlife Removal are courteous and attentive to homeowner's needs. We take our customer's satisfaction seriously and will go above and beyond to ensure the job is done right. Your family's overall well-being is the top priority at Georgia Wildlife Removal. When you call us for wildlife removal in Atlanta, you can count on us to remove and prevent wildlife from inhabiting your home.
Recent Articles About Attic Contamination Cleanup
If you are looking for Atlanta Attic Contamination Cleanup Professionals then please call 404.931.5578 or complete our online request form.