Atlanta Animal Damage Repairs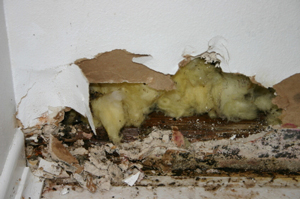 Some people may not be aware of just how much damage wildlife can cause to a home. For example, mice can chew through electrical cords as well as chew holes in walls and in furniture. The cost of these items can add up after a while. They can also chew through clothing and food containers which will contaminate both food and clothes to where they will have to be thrown away. All this stuff will add up in time and repair bills can be expensive. But these are not the only items that can be given a problem.
The easiest way to prevent animal damages to your home is to prevent rodents from entering your home in the first place. Because mice can enter holes of even 1/4 inch, you need to call Georgia Wildlife Removal, an Atlanta wildlife removal company, to ensure that rodents cannot enter your home. We can both find and seal any problem areas to keep your home rodent free.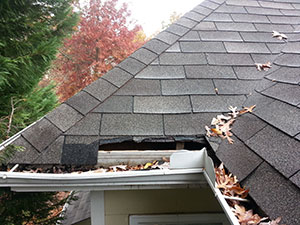 If you already have rodents, you should call Georgia Wildlife Removal immediately. You may already have significant damage to your home from your rodent squatters, so once you've eliminated them from your home, ask your pest control team about ways to check for and repair rodent-created damages. We provide attic contamination cleanup, animal damage repairs in Atlanta and surrounding areas.
Our Atlanta Animal Damage Repairs Provides
Restoration
Rodent Control
Animal Damage
Raccoon Control
Critter Control
Drywall Repair
Siding Repair
Animal Damage Repairs
Wildlife Damage
Squirrel Control
Rodent Removal
Animal Control
Why Atlanta Should Hire Us For Their Animal Damage Repairs
Georgia Wildlife Removal is a company specializing in ridding Atlanta homeowners of raccoons, opossums, birds, and other wildlife that may have inhabited your home. We offer wildlife removal services in Atlanta and surrounding areas, as well as home restoration services to repair the damages and rid your home of the disease causing pest waste.
The skilled professionals at Georgia Wildlife Removal are courteous and attentive to homeowner's needs. We take our customer's satisfaction seriously and will go above and beyond to ensure the job is done right. Your family's overall well-being is the top priority at Georgia Wildlife Removal. When you call us for wildlife removal in Atlanta, you can count on us to remove and prevent wildlife from inhabiting your home.
Recent Articles About Animal Damage Repairs
If you are looking for Atlanta Animal Damage Repairs Professionals then please call 404.931.5578 or complete our online request form.